Message from the office
On 1 October the Minister of Basic Education, Mrs Angie Motshekga, made a statement with regards to the developments in the basic education sector. We will, as school management, address some issues raised in due course, but I wish to highlight a section of this statement for today:
"We are encouraged and humbled by what we see in schools. Schools continue to implement the rotation system, by either implementing staggered days of attendance or platooning. This, schools do, in order to adhere to the health and safety requirements. Safety remains our top priority, because the coronavirus is still very much with us. We therefore, need to continue to take care everywhere else, and more so in our schools.
We are however, concerned that there are learners who have not returned to school yet. In the schools that we have visited, the return rate is between eighty to ninety percent (80% – 90%). While it is encouraging to see the numbers increase gradually, we appeal to parents to release their children to return to school.
This means that we need to work together with parents and communities to support the children. The fact is that schools are not operating normally at the moment.
The rotation or platooning approach which schools are using, means that there are designated days when learners are at school, and other designated days they are not. This again increases the risk of them losing interest, and forget critical curriculum topics already covered at school. The difficulties in timetabling, will be with us for the remainder of the year, as we continue to balance teaching and learning, while saving lives."
From this I wish to highlight the following:
We are most appreciative of the many girls who are up to date and who do their work while on their 'at home' days but we are also enormously concerned about the girls who are still trying to catch up with their lockdown work and who return on alternate days not having done the work given to them. Their days at home are not days off. Please ensure that your daughter has a routine and instill in her the notion that she still needs to spend a few hours working while she is at home. Without your input and guidance, your daughter will, without a doubt, find herself with gaps from this academic year. If we work together to make sure that all work given is completed, the impact of this pandemic on this academic year will be minimal.
Secondly, while I understand the fears of many parents, I wish to encourage you to return all exempted girls to school now that we are on Level 1. Our teachers have an enormous task of teaching our girls on alternate days and in addition trying to ensure that those still working at home, remain on track. I strongly believe that your girls will benefit from returning to school at this stage and resuming her lessons with her peers and her teachers. The risk of being at school at this stage is very low. Please consider this most earnestly.
---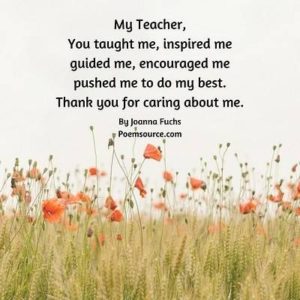 October is recognised as World Teachers' month and the 5th October is World Teachers' Day. I am extremely proud of our teachers and their input and hard work and for the flexibility they have shown in managing to continue their teaching during these challenging times.
I wish to thank our teachers for their commitment and effort and their ability to keep moving forward despite the added pressures and demands. We are extremely fortunate to have such dedicated teachers at our school.
Bearing all this in mind, on Monday and Tuesday (5th and 6th October), I'd like to encourage our girls (and even our parents) to send a little thank you to their teacher/s for all that they have done. It can be in the form of a handmade card, letter or even a little homemade gift to show appreciation. Everybody thrives on acknowledgement and appreciation and this includes our hard-working teachers. I know that the thanks will go a long way to make them feel valued and spur them on to keep at it.
---
Ndlulamthi Badge of Excellence
Well done to our two recipients who received their badges at Monday's assembly:
Chloe Maartens showed exceptional self-discipline during the lockdown period and took the initiative to complete all her work, assignments, tests and other assessments immaculately. She conducts herself very well in class and is a role model learner for those around her. She is always neatly dressed and very well-behaved and well-mannered and a pleasure to have in class.
Okuye Funani always gives her best in everything she does. She shows respect for others and sets a wonderful example to all at VP. Her work is of a high standard and her commitment to her music is always valued. She continues to have a positive disposition through these uncertain times. Her hard work and positive attitude is recognised by all.
Well done, Okuye and Chloe! We are super proud of you both.
---
Best Speakers
For the first time our Best Speakers competition was held virtually. All the girls who represented their grade did so in a fine manner. Othandwayo Jaji was our Master of Ceremonies.
We would like to thank Mr Osmond who was the adjudicator. Not only did he announce the winners but he provided constructive feedback which will definitely help all twelve finalists in the future.
We are truly proud to announce the following winners for Best Speakers 2020:
Grade 4: Unakho Mengo
Grade 5: Skyla Davies
Grade 6: Haidee Thondhlana
Grade 7: Kelly de Jongh
---
We will have our SGB AGM and Budget meeting on Monday, 12 October at 17:15. Please note that we will follow strict Covid-19 regulations and if necessary have more than one meeting if additional space is needed. The budget is available to view at the office.
---
Eye Screening and Glasses
Our Foundation Phase girls as well as all new girls had their eyes screened in March, these results have been sent home. Please could you ensure that you have made a follow-up appointment with an optometrist if it was recommended that your daughter needed one. These results must please be shared with her teacher so that we can implement any possible interventions in the classroom. This applies in the event of any optometric screening that your daughter may have had. It is very important for teachers to be made aware of the fact that your daughter wears prescription glasses in order to ensure that she uses them.
---
Foundation Phase Drop offs
Please remember that morning drop offs are from 07:15 to 07:45, and that any child who arrives before then may not be supervised by an adult until the teachers start screening at 07:15.
---
Don't forget to sign up for the VP Eisteddfod
The Eisteddfod is open to all girls from Grade 3 to Grade 7. In order to comply with safety protocols all performances will be submitted electronically as videos, while artwork can be brought to Ms. Knott-Craig. All entry forms must be completed online by candidates' parents. The entry form will be available on the school's website. Entries open on Monday 28 September and close on Friday 2 October, R5 per entry. Further details will be available on the online entry form on the following link:  https://docs.google.com/forms/d/e/1FAIpQLSfBpNmLXTWeXoZfPDQYBy8KKz97sSW808Etm41cO19B-TFGLA/viewform
---
Happy birthday to the girls who celebrated their birthday this week:
Iviwe Masoma, Lisakhanya Ndlovu, Kungothando Ngangani,
Amy Terblanche, Ligugulethu Busakwe, Kelsey Hubbard and Amyoli Loli.
Warm regards
Mrs Michelle Rafferty
Principal