Message from the office
Next week we will be celebrating 'World Read Aloud Day' which aims at promoting literacy.
Date

Activity

Monday 31 January

Assembly (topic Read Aloud Day), IP girls will read to FP and PP girls

Wednesday, 2 February

Silent reading/ read outside/in pairs/ alone or in groups. Bring your favourite book to school.

Friday, 4 February

Come dressed as your favourite book character (If possible bring the book to school and tell your class all about him/her)

COMPETITION: Send a photo of yourself reading in the most unusual place. Photo's can be sent to admin@victoriaprimary.co.za The most unusual photos will receive a prize at assembly. Closing date for all entries is Friday, 11 February.
Throughout the year in the Pre-primary and Foundation Phase reading is an integral part of the daily programme. In our Intersen timetable we allow time for our girls to read in silence at least three times a week first thing in the mornings and we encourage them to read whenever they may have a spare moment.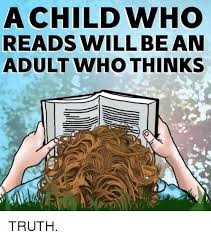 One can never underestimate the value of reading and being read to and the best way to encourage this is to set the example by reading and to have reading time with your daughters in your daily routine. There is no doubt that there is a correlation between a child's academic performance and how much they read. Reading increases children's vocabulary, concentration, general knowledge, cognitive ability, fluency, comprehension, imagination and creativity and it develops a lifelong love for reading. Not to mention the added benefit of creating a wonderful opportunity to bond with your child.
One of the most effective ways you can support your child's schooling is by reading to them.
Settling into 2022
I hope that the first week and a bit of school has not been too overwhelming as you navigate your child's school day and extramurals especially if you are new to our school or a parent of a grade one. We trust that as the term progresses you (and your daughters) will become more familiar with her daily routine and how our days work. We try very hard not to stray too far from what is planned and we do not cancel at a whim as we are aware of the impact this has on you as parents. However, we do make the call to cancel or postpone if we think that it will be in the best interest of our children as we did on Monday due to the extreme heat and humidity. If this happens, we send out notices on our D6 and often our teachers will share such messages on their grade or sports Whatsapp chat. If however you are really stuck and can't make alternate plans, rest assured that we will always ensure your child is looked after during the time she would have had an activity or sport.
WhatsApp groups
Although this is a wonderful and effective tool of communication, it should not be used by parents with the expectation that teachers should explain work that was explained in class, or to explain things that can be found in the newsletter. Please read your newsletter or your daughter's homework diary or even question her first before anything else. We also request that unless it is an absolute emergency, you do not contact teachers after hours, during the weekend or during teaching time. The older your daughter is, the less need there should be to communicate information with you, the parent. We need to teach our girls to listen to announcements and their teachers and to pay attention to what is happening around them and to learn to refer to newsletters and timetables. If they rely on you texting her teacher all the time, she'll never learn these very crucial organizational (and life) skills. If you are still unsure, please contact the school office during office hours.
School Hats
We encourage our girls to wear hats during sport and break time especially during these hot summer months. They are allowed to wear either the VP navy peaks or the VP navy floppy hat. They are available from Heinen Uniforms & Embroidery at 28 Somerset Street – 082 441 4708.
Time Management
Please make sure that your child arrives at school on time. A reminder that the Intersen (Grade 4-7) children have to be at school BEFORE 07:25. Children who arrive late miss out on important announcements at lines and their crucial silent reading or Mental Maths sessions. If you make use of 'transport' please ensure that they are aware of our school times. Now is the time to set good habits and morning routines.
Vaccinations
The Department of Health will be at VP on the 1 February. If you wish for your daughter to be vaccinated and she is 12 years or older please send a copy of her birth certificate and/or her vaccination card to school on this day. Unfortunately, if the girls do not come to school with the necessary documents we won't be able to facilitate her vaccination at school. Please ensure you plan for this in advance.
Extramurals
We were so pleased with the response to our trials and would like to accommodate all abilities where possible. Therefore, we are updating our extramural programme and sending it home with the newsletter today, please check it carefully to see if any of your daughters' activities have changed.
Tennis notices
Upcoming team tennis matches:
9 February
24 February
10 March.
Please note that on the Wednesday, 9 February the Intemediate tennis practice will take place on the small court with Ms Purdon.
Kingswood Short Course gala
VP will participate in the Kingswood Short Course Gala on Tuesday, 1 February
at 14:00 at the Kingwood College pool. The gala starts at 14:00 and should be
completed by 16:30. Swim well, girls!
VP Park Run Challenge
Please join us in keeping fit and enjoying the outdoors together.
The Grahamstown Park Run is held at the Botanical Gardens on the Rhodes University Campus every Saturday at 08:00. It is a 5km route (2 laps of the course) and you can walk or run.
I challenge you to join me in doing as many Park Runs as you can this term. To enter the VP Park Run Challenge and be eligible to win a prize please take note of the following:
You will need to register on the Park Run Website and print your barcode to bring with you each week. https://www.parkrun.co.za/register/
If you are younger than 11 years old you will need to bring an adult to walk or run with you. If you are older than 11 years old you can walk/run on your own but your parents will need to drop you off at 07:50 and collect you again at 9am.
Each time you complete a full 5km Park Run the organisers will send you an email with your time. Please forward this email each time to the following address: vpparkrun2022@gmail.com
I will record your time and track your progress.
If you are 8 years old or younger and you only complete one lap then you will need to ask your grownup to time your lap and email it to me.
At the end of the term prizes will be awarded in the following categories:
The most park runs/walks for the term (u8 and over 11)
The fastest 5km time (u11 and older)
The fastest lap (2.5km) for u8
The most improved time for the term
We will start our VP challenge for Term 1 on Saturday 29 January at 08:00 sharp. I look forward to seeing you there. Mrs Jones: carol.jones@victoriaprimary.za
Birthday wishes
The following staff and girls have celebrated their birthdays so far this year: Mrs Jones, Ms le Roux, Mr Kepe, Ms Lang, Mrs Sauls (this weekend) and Ms Jamela (this weekend), Zazi Gqamana, Willow Hector, Lilitha Kila,Ingcali-Yomso Mani, Bohlokwa Motitsoe, Lunje Peter, Mihle Khitha, Avuthando Matyumza, Jaysea Botha, Likamvelihle Dyibishe, Mbalentle Jadi, Lelona Kuselo, Kungothando Nzuzo, Amber Isaacs, Caitlyn Bodill, Kungawu Mapasa, Mbalentle Dyaloyi, Kulowo Msipa, Oyintando Nkatazo, Amyoli Sesani, Ahluma Zwana, Mandi de Koker, Zayoni Matiwana, Alibongwe Mthembu, Lunathi Zikishe, Sinothando Matshaya, Hlomboluhle Mvula, Sama Torweni, Bongumusa Louw, Isipho Nelana, Sabrina Nyathi, Giselle Peters, Lisa-Jane Evans, Yayama Kom, Lulo Ponoshe, Junaid Williams, Zingcali Mangali, Yonelisa Ngaleka, Isla Orsmond, Aliyah Swartz, Adora Gxashe, Hlomla Ndungane, Rebecca Phillip, Aventhandwa Hambaze, Iminathi Malusi, Lulama Joe, Yakobedi Mukungu, Zintle Bangani, Avela Sigidi, Lilani Wolmarans, Stephanie Folaranmi, Ovayo Phillip and Sesona Mnqinana.
Happy birthday to those celebrating next week: Ms Purdon, Ms Slabbert, Ms Nguta, Katie-Leigh Arnott, Iviwe Jakavula, Iminathi Mgwebi, Luniko Hulushe, Nakhane Klei, Zingce Pilisani, Inam Toll, Onwaba Hoyi, Christelle Ruwanza and Esethu Stamper.
Warm regards
Mrs M Rafferty
Principal