MESSAGE FROM THE OFFICE
At next Monday's assembly, we will be focusing on our third and final trait in our motto ; accountability.
As parents, accountability is making sure that our children know that their actions and choices have consequences and that they need to face these consequences. If we continue to blame others for our children's poor behaviour, find excuses for our children's poor choices or actions and cover for them or protect them from the consequences of their actions, they will never learn the cause and effect that their life choices have. And unfortunately, as a result our children may grow to be entitled young teens and adults. These entitled young teens and adults never acknowledge any mistakes or wrongdoing because they have been brought up knowing that others will always get blamed or someone will always cover for them.

Do you think that you are bringing up a child who is learning to be accountable?
Ask yourself the following:
1. If your child loses something, do you question everyone at school, except your child herself?
2. If your child gets into trouble, do you question the teacher and/or the school system?
3. If your child gets into a fight or argument, do you always take your child's side?
4. If your child does poorly in a lesson, do you blame the teacher or the class?
5. If you threaten your child with a certain punishment, do you never follow through?
6. If your child never knows what is going on in class or what's for homework, is your first assumption that the teacher is doing a poor job?
7. If your child is faced with negative consequences due to her actions, do you cover for her or do anything in your power to not let her have to face the consequences?
8. If your child is asked to do chores or help around the house, do you always eventually do it yourself?
9. Do you do things for your child that you know she are very capable of doing for herself?
10. Do you always make excuses for your child's bad mood or poor manners?

Ask the following of your child:
1. Does she always blame others for her mistakes?
2. Is it always the teacher's or someone else's fault?
3. Does she expect you to solve her problems for you?
4. Does she always find a way to get out of her chores and responsibilities around the house?
5. Is she unable to identify her contribution to the cause of arguments or disagreements?
6. Is she able to acknowledge how her actions may hurt others?
7. Does she often use "I'll tell my mom//dad/ granny' to sort out her problems?
8. Is your child unable to keep her promises?

It is never too late to make sure your child learns to face the consequences of her actions and be an accountable citizen. Sometimes it's hard as we don't want to see them suffer, that's why it is called tough love, but it is far better than watching your children grow into ungrateful and unaccountable teens and adults. Set an example of an accountable adult for you child to look up to, too.
"These kids who never have any accountability for their actions will continue through life thinking nothing is their fault and everything is owed to them."

Accountability breeds response-ability – Stephen Covey.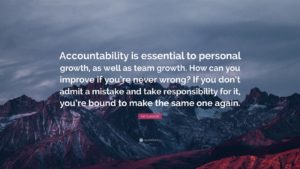 OUR WEEK
We had a delightful Induction Assembly for our new leadership team on Monday and we hosted Mr Swift and the Graeme College Grade 7 monitors at this assembly. We thank all our parents who supported their daughters at this special event.

On Wednesday a group of Grade 7 IsiXhosa girls accompanied by Mrs Mabusela visited the Amazwi Puku Story Festival. The purpose of this event was to celebrate the International mother tongue day which was on the 21st of February. The main speaker spoke about the importance of keeping our culture alive.
It was a lovely day. They also toured around the museum and read different stories about South African History followed by singing, storytelling and games in the auditorium. It was a fun educational outing enjoyed by all.

This morning we hosted our Founders' Assembly and Dr Amy Jackson-Moss addressed our girls as an old VP girl and as our guest speaker. We were delighted to have such a wonderful example of a serving citizen to speak to our girls and they were intrigued to listen to her encouraging and inspirational message.

Due to the rainy weather we have postponed our Splash and Interhouse Gala to the Thursday, 24 March
CONGRATULATIONS
WOW (Worker of the week)
Well done to Iviwe Jakavula for her amazing work in Natural Science on Habitats.
OUTREACH
Kind Club
Reminder that the Kind Club is putting dignity packs together to distribute at local soup kitchens for people in desperate need of toiletries. We appeal to the VP family to donate the following items towards this project: face cloths, roll-on deodorant, soap, toothpaste, toothbrushes, sanitary pads, body lotion, Vaseline.

The members of the Kind Club will hold a cake sale on Friday 11 March to raise funds for our Children helping Children project in which VP girls sponsor the school fees for a child under the care of Child Welfare. Please support this worthy cause by sending money with your girls to support the cake sale.

PTA Fundraisers
Easter Raffle
We will be having an Easter Egg Raffle in Term 2 and are looking for donations of Easter eggs towards the prize hampers. Please support the PTA by donating Easter eggs.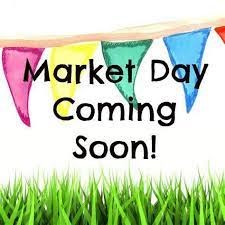 Media Market Day
We are once again starting this grade based fundraising opportunity. All money raised is used to purchase readers and library books. On Monday, 7 March the Gr 4s will be selling homemade, baked and yummy items to the rest of the school at break. This is a wonderful opportunity for your daughter to practise her entrepreneurial talents. Monday, 14 March is the Gr 5s turn.
SPORT
Tennis
On Thursday, 10 March selected girls will be taking part in a friendly Tennis Doubles challenge at Shaw Park. Travel safely and enjoy a competitive afternoon, girls!

Netball
A group of ten U13 Netball girls have been chosen to participate in the Annual Frans Erasmus Netball tournament at PJ Olivier on 11&12th of March. As soon as the program is set, all details will be communicated to the girls who are participating. Play well, girls!

Interhouse Cross-Country
We are excited to be able to hold our Interhouse Cross Country event on Tuesday, 22 March. The Pre-Primary and Grade 1s will run a course on the VP campus at 8am and will be supported by the bigger girls in their houses.
The Grade 2-7's will run a short cross-country course in groups at the Botanical Gardens from 9-10:30. Girls must come dressed in their house shirts, black shorts, white socks and takkies.
Parents are welcome to support their girls at these events. We look forward to an exciting event.

End of summer sport
Next week we will begin with trials for our winter sports. Please see the back of newsletter sent home today for an updated schedule. It is compulsory for girls to participate in a winter sport. U10&U11s may do one or both, U12&13s have to choose between either hockey or netball. All Foundation Phase sport will continue as normal.



Happy birthday to everyone who had their special day this week! Next week the following staff and girls will celebrate: Ms Featherstone, Mr Wynne, Mr Ntlalo, Ndalo Mvula, Mila Nongubo, Cazlin du Plessis, Amila Mdingi, Asante Tetani, Tyronéya Francis, Ariba Nawaz and Amvuyela Sakata. We hope you have a wonderful day!

Regards
Mrs Rafferty
Principal