Message from the Office
A warm welcome back for Term 2. I trust that you had a good, although rather short, break with your daughters. This term is full of public holidays and long weekends and we will endeavour to keep the rhythm and focus going through it all. Next week we have the Easter long weekend and there will be no school on Friday the 15th and Monday the 18th April. I wish all the families who will be celebrating Easter a blessed time together.
I used to love Easter as a child with the excitement of a visit from the Easter bunny and the search for chocolate eggs around the garden the next day. Not to mention the joy of spending days eating chocolate afterwards. My sisters used to eat theirs more conservatively than I did and it was with much frustration that they still had plenty long after mine were all eaten.
Easter for Christians symbolises new life and new beginnings as does the egg, and for me it is always a reminder that we can always make a change; better ourselves, mend broken relationships and fix what's broken.
At Monday's assembly we handed out many certificates for our Interhouse Gala and Cross Country and for our weekly Parkrun Challenge. Included in those were certificates for our teachers who
participated in the Parkrun too. Mr Greyling was one of those recipients and he spoke to the girls on receiving his certificate. He noted that this is the first time in his life that he had received an award for sport and that it was never too late to make a change in your life and to improve your lot. A touching message for everyone I thought.
Nothing is ever impossible however, with change and moving forward, we need to find the grace to forgive others for the hurt they may have caused us and we need to forgive ourselves for the choices and actions we might now regret. Because without forgiveness no-one can move forward, heal and grow. Forgiveness provides 'new life' and healing for all.
Have a blessed Easter and may you and your family be blessed with new beginnings and positive changes.
Please note that our next newsletter will only be sent out on Friday, 22 April.
Easter Egg Raffle
Reminder that the closing date is Wednesday, 13 April and forms must all be returned by then. The draw will take place on the 14th of April. Please note that R50 is payable if you have lost a raffle sheet.
Reports
Your daughter will have received her report today. Please read through it carefully with her and praise her hard work and effort. If there is room for improvement and areas of concern please feel free to make an appointment to meet with your daughter's class teacher.
Report discussions for Gr 4-7 will take place on Tuesday, 12 April from 16:00-18:30 in the Glennie Hall. Your daughter will receive a notice about this in their report envelope. Please complete the reply slip if you wish to attend.
School Uniform
Due to the very cold weather girls are permitted to wear their winter uniform. However, they must NOT mix summer and winter uniforms. Please make sure your daughter is dressed neatly.
COVID SOP UPDATED
We will be adjusting our COVID protocols according to the latest Government Gazette Vol.680 N0 45877.
Please note the following:
• Girls are still required to wear masks inside
• Girls may remove their masks during break time and when outside but we will encourage social distancing when this happens
• Grade 4-7 girls will enter between 07:00 and 07:25 at the side white door on Beaufort Street and are required to sanitize at entry. They will still exit at Beaufort Street Gate.
• Grade 1-3 girls will continue to enter between 07:15 and 07:45 at Huntley Street and teachers will ensure they are sanitised. They will also still exit at this gate.
• Pre-primary children will enter at the Pre-primary gate at the current times. Teachers /interns will sanitise the girls' hands.
• All visitors and parents must report to the office
---
Congratulations!
Merits
Esethu Stamper, Sanda Stofile, Sally Kadye and Chloe Bowker have received over 250 merits so far this year! Well done!
Worker of the Week
Emily Weber is the Worker of the Week for her excellent progress in Music! Well done, Emily!
---
Results from the Kingswood Hockey Festival
VP 0-1 Kingswood
VP 0-0 Holy Cross
VP 2- 0 DSG B
VP 0-0 Stirling
VP 0- 2 Hangklip
VP 0- 1 Sunridge
Our girls played their hearts out and learnt a lot of new skills on the astro. Thank you for all the support from the parents, staff and pupils. Thank you, Mrs Andrews and Ms Nel for coaching and preparing our girls for the tournament.
---
Makana netball trials results
On Tuesday & Wednesday the U12, U13 and U14 Makana Trials took place. Congratulations to the following girls who were selected for the Makana team and will now progress to the Sarah Baartman trials:
U14: Chelsey Koesnel
U12: Sanda Stofile
U13: Tenielle Morrison, Lisa-Jane Evans, Siyolise Baxana, Ludwe Ngcebetsha, Khazimla Kwenxe and Nqobile Gxashe.
These girls will receive half colours for netball at assembly on Monday. Well done and good luck for the next round, girls!
---
Shotokan-Ryu Karate
At the end of last term Athena Mothudi and Abenathi Kulati took part in the 2022 WUKF National Karate Championships & African Open in Gqeberha. A great deal of hard work and training went into the preparation for this tournament. Athena received bronze medals for Kata and Kumite and Abenathi received a gold medal for Kata. Well done, girls!
---
Upcoming Fixtures
Our hockey and netball fixtures against Gill Primary will be taking place on Saturday at Gill College in Somerset East. Girls must be at school by 06:00 on Saturday morning and must please arrive dressed in match kit under their full tracksuit. We wish them safe travels and may their matches all be played in good spirit!
Match fixture times will be as follows:
Netball matches
09:00 U9A-court 1; 09:30 U10A-court 1;
10:25 U12A-court 1; 10:25 U11A-court 3;
10:50 U13A-court 1
Hockey matches
09:00 U13B; 09:40 U13A; 10:15 U9A; 10:45 U10A
Please see information about our upcoming Dance-a-thon on the back page of the newsletter your daughter will bring home today.
---
OUTREACH
VP is supporting the Reach for a Dream Slipper Day again this year. Girls can purchase a sticker for R20 and will then be allowed to wear slippers at school on the 6th of May! Please buy these in advance from Mrs Mgogo (between 07:40-08:00). If you would like to bring slippers to school to wear for the day without buying a sticker you may do so for a R10 donation. All the proceeds will go to Reach for a Dream an organization that strives to fulfill the dreams of children who are suffering from life threatening illnesses.
Donation for art class
We are collecting polystyrene containers for the Grade 7 printmaking project next term. If you have any please send to the office.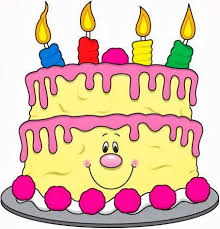 Happy birthday to everyone who had their special day this week! Next week the following staff member and girls will celebrate: Mrs Barrow, Limi Xipu, Zenazi Gqeke, Chikhulupiriro Mitochi, Grace Kretzmann and Kaelyn Westcott. We hope you have a wonderful day!
Regards
Mrs Rafferty
Principal
---
NEXT WEEK
Monday: Applications open for 2023
Tuesday: Report discussion Gr 4-7 16:00-18:30
Wednesday: No extramurals due to staff development
Thursday: No extramurals
Friday: Public holiday
---
COMMUNITY EVENT