Message from the office
This past Monday we had a very long assembly where we had the pleasure of being entertained by our junior and
senior choirs. We were also delighted to present many girls with their well-earned merit badges and we presented Lisa-Jane Evans and Mbali Maxhaulana with their full colours for hockey and netball respectfully.
Our assembly message was all about 'bucket-filling'. I am not sure if you have heard of this concept but the idea is that everyone carries an invisible bucket that represents our good feelings and positive thoughts about ourselves. These buckets get filled by the way others treat us, speak to us and how they make us feel. We also fill our own buckets by treating others with kindness and filling their buckets up. 'Bucket dippers' are those who empty our buckets with their unkind words and actions and try to fill their own buckets by taking from ours.
My favourite part of the whole concept is the bucket lid. This is the lid that we can use to protect our own buckets and how much we allow others to remove from our buckets. To me, it is how much we allow others' actions and words to affect us. It encourages us to step back and consider what the bucket of those who are 'dipping', must look like and to consider why they have empty or near empty buckets. Are they stressed, hurt or ill?  We may feel more inclined to try to fill their buckets then allow them to empty ours. I think a 'lid' is so important. It means that we have control over how others' actions and words impact us. A visible image of sealing your bucket with a tight lid (one of those Tupperware lids that are nearly impossible to remove) can be very empowering.
We all need to make sure that we are 'bucket fillers' (givers, healers, problem solvers, solution givers, non-judgemental, praisers, empathetic, understanding, show gratitude and patient) and not 'bucket dippers' (hurtful, quick to anger, takers, impatient, judgemental, critical, humiliating, entitled, thankless, problem finders, and revelers condescending, bullies, stirrers and drama-creators). Let's all aim to make sure that our actions and words fill the buckets of all those we interact with.
---
Supersport Schools
At our Academic Assembly on Wednesday, 15 June our U13A Netball and Hockey teams will receive sponsored kit
from Supersport Schools. As part of the hand-over Supersport will be recording the assembly on video. All girls Gr 1-7 will attend this assembly. Please make sure that your daughter is neatly dressed in school uniform, Gr 4-7 must wear their blazers. No sports uniform may be worn.
---
Movie Night
Our movie night was a great success and we thank all the teachers and parents on the PTA for assisting in this wonderful family night. We made a total of R11676 from this fundraiser.

A special thank you to our wonderful sponsors within our Makhanda Community: Blueberry Print and Design Studios, TopTop Butchery, Sweet and Salty, Albany Butchery, Pick 'n Pay, Delish Bakes, Legends, Connocks Butchery, Just Property and Frontier Brokers.  Thank you to everyone for their support and the wonderful ambience of the evening.
---
Dates to remember
Wednesday, 15 June is the girls' last day of school and school will close at 10h30. Report collection will be on Wednesday, 22 June from 07h30-08h30. Collection will be from Beaufort Street. PP and FP reports can be collected from the Pre-Primary gate. IP (Grade 4-7) reports can be fetched from the office gate.
The next and final newsletter for the term will be included in the report envelopes.
---
POW and Ndlulamthi Badge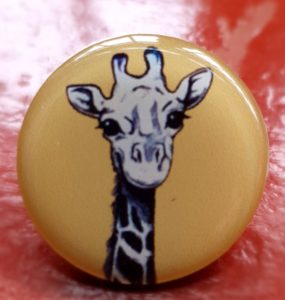 Congratulations to Kungawo Mapasa who was awarded with both the Personality of the Week for her exceptional manners and respect and her Ndlulamthi Badge at Monday's assembly. Thank you for being such a wonderful example of a VP girl, Kungawo!
Worker of the Week 
Well done to Onika Jimmy in Grade 1A who came to my office twice this week for good work. I particularly loved her news and her drawing of the movie night!
As one little girl in her group asked me, "Did we fill your bucket today?". They most certainly did!!
---
Merits
The following girls have received over 250 merits so far this year: Amila Mdingi, Kamva Tyatyeka, Nqobile Gxashe, Litha

Tabensky, Unako Nondlazi, Lisa-Jane Evans, Amber Isaacs, Ovayo Philip, Zingce Mngxuma,  Aliyah Bezuidenhout, Micarlin Daniels, Avethandwa Hambase, Chikhulupiriro Mitochi, Siyasisanda Nene and Emily Weber.
---
SPORT
Hockey Results
7 June
U10A VP 0-4 DSG; U10A VP 1-2 KC; U10B VP 2-0 KC; U10B VP 0-2 Oatlands; U10B VP 0-3 DSG
8 June
U11A VP 1-2 DSG; U13C VP 7-0 St Mary's; U13B VP 7-0 St Mary's U13A
9 June
U11A VP 0-1 KC; U11A VP 0-1 KC; U11A VP 0-1 Oatlands; U11B VP 2-0 Oatlands; U11B VP 3-0 St Mary's; U11B VP 0-0 KC
There will be hockey practice for the U13A team on Monday 13th and Tuesday 14th of June from 14:00-15:00. This is in preparation for their tour to the Anne Beagley Hockey Festival in Graaff-Reinett.
Please note there will be no other extramurals next week.
 Netball results
VP vs PAH
U9A   VP 3-3 PAH; U9B   VP 2-0 PAH; U10A VP 9-5 PAH; U10B VP 16-0 PAH; U11A VP 1-4 PAH; U11B VP 6-0 PAH; U12A VP 0-6 PAH; U12B VP 6-7 PAH; U13A VP 15-4 PAH; U13B VP 10-1 PAH
---
 National Arts Festival
We will once again be hiring out our hostel for accommodation to raise funds during festival this year. Please could you assist us by donating tea bags, coffee, Long-Life milk and sugar.
 Kind Club
Please continue to send donations of a story book or soft toy that is no longer read or played with to the Kind Club who will arrange for them to be sent to the children who lost the little they had in the floods in KZN recently.  Please drop all donations with either Mrs Jones, Mrs Mgogo or Mrs Orsmond.
 Birthday wishes
Next week the following girls will celebrate their birthdays: Bridget Akpeng, Asali Dude, Rachel de la Mare, Layola Loliwe, Zothando Mzileni, Owami Shabalala, Sibonokuhle Benge, Sinesipho Mafani.  We hope you have a wonderful day!
Regards
Mrs Rafferty
PRINCIPAL
Important dates to take note of…
Friday, 10 June: Extramurals end
Wednesday, 15 June: Academic Assembly. Last day of term. No Aftercare. School closes at 10:30. Hostel closes at 12:30. 
Wednesday, 22 June: Report collection 07:30-08:30
Tuesday, 19 July: Third term begins